Customize your life or a gift with unique/fun stickers and artwork of characters, we all know and love!
Can you guess who is "handing over" who?
Tony Poulson creates art combining recognizable Pop Culture Icons being handed over by their counterpart, an ally, or even creator which evokes elements of cuteness and quirkiness across all genres.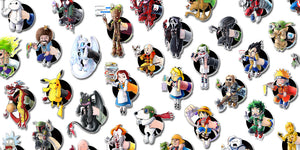 *NEW* Canvas Collection
Gallery quality canvas print displays vibrant artwork that is built to last. Printed with HP Latex Inks that are fade resistant. Inks are water based and solvent free so rest assured there are no harsh chemicals in your home. Assembled with 3/4" thick wood frame and glued wood core stretcher bars. Check them out.
reviews
"⭐️⭐️⭐️⭐️⭐️⭐️⭐️⭐️⭐️⭐️10/5 would recommend! The artist is awesome, very nice person! The quality of your stickers is sickening awesome! They stick FOREVER, like until you possibly pass away hahaha people are always asking where I got them, and I tell them about this awesome guy! The prints are on point, looking at the shading and all of the textures and stuff is 🙌🏻, you get a lot of comments on them! The prints overall and just amazing!! Overall the guy who runs it, is an amazing person, and what he does is soooo dope! Keep up the great work!!"

-Brenner S.
" love the art of Hand Over The Hero. I get the stickers because I want to share with everyone. The quality of the stickers is amazing. Got my first 4-5 years ago and it's been on my car ever since. No peeling, cracking or noticable fading!"

-Josh G.
"Amazing amazing AMAZING artist!!!!!!! The stickers are worth the price, very good quality. I love the prints we have purchased. We have so many from him in my family. I never take mine down, I just make room for more. His talent is so beautiful and gives us the best quality. The limited edition ones are one of my favs. The limited miles Morales is my favorite limited one I have. Every con we purchase at least one thing from him. They're good presents from marvel, anime, disney, and star wars and some horror.

-Emilie
Every year at FanX in SLC, you are our first stop (and usually one of our last ones too). While @yunkwife found you first, we are all your biggest fans and happy customers. We love you and your art😍

-Kris G.
Love these stickers! Well worth the price! I've had mine on my car for three years now and it still looks brand new! Great gifts for lovers of all fandoms!

-Liberty S.